Medical Care at Buchanan Health Center in Leesburg
In addition to providing chiropractic treatments, assistance with leading a healthier lifestyle, nutritional counseling and therapeutic massage, Buchanan Health Center doctors and nurses offer comprehensive medical care for men and women 18 years of age and older. Our women's services include wellness visits, pap smears, blood work, breast exams (with referrals for mammograms), birth control and BioTe, a popular type of hormone replacement therapy. We also perform preventive spinal and postural screenings for members of the Leesburg community at health fairs, community events, places of employment and various community events.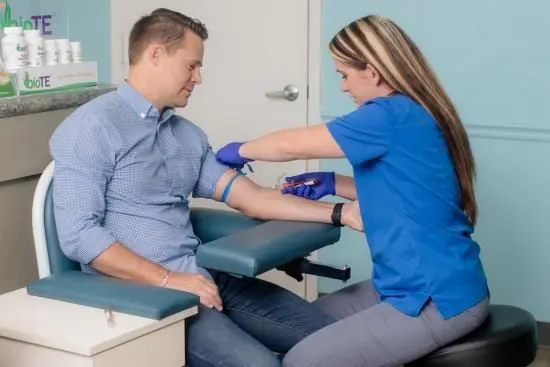 Primary Care, Family Care, and Wellness Screenings
You need a family medical center that can meet your family's needs. At Buchanan Health Center, we provide a wide range of primary care and overall family care services to patients. If you need an annual physical or perhaps a sports physical before the season starts, we can help you. Come in for all of your annual screenings and trust us to help you stay the course for your health and well-being.
We offer all types of medical screenings in office. This includes cholesterol testing and age-specific testing and diagnostics. Early diagnosis of medical conditions can help us to prevent worsening health problems. Talk to us about all of your medical care needs. Our Medical Provider is always available to answer your medical questions and provide you with recommendations for additional health screenings or testing.
We also offer blood draw services. Our in-office lab draws blood for a wide range of testing needs. If you need a specific test run as a result of a doctor's recommendation, we can often help you. Call us or visit the blood lab for additional information.
BioTe is an innovative HRT using naturally-derived hormone replacements instead of synthetic hormones. Once thought to be the "cure-all" for symptoms and disorders associated with pre menopause, menopause and low estrogen/progesterone, synthetic hormone replacement therapy is now known to contribute to:
Pulmonary embolism
Thromboembolic disease
Cardiovascular disease
Endometrial cancer
Breast cancer
Ovarian cancer
Gall bladder disease
When you choose BioTe for replacing hormones lost to the aging process, you won't have to undergo a series of multiple injections. Instead, a tiny BioTe pellet is inserted painlessly under your skin that continuously releases the right amount of hormones necessary for optimizing your general health, safely reducing risk for many age-related diseases without the negative side effects of synthetic hormones.
Chiropractic and Wellness Care for the Surrounding Areas of Leesburg, Fruitland Park, Eustis, Tavares, Mount Dora, and Umatilla
Minor injuries can often become chronic pains if they are not treated soon enough or properly. Let us help you. Our team provides injury care for numerous types of ailments from young children through adults and seniors. Adult women and men suffering chronic health problems that are not responding to traditional treatments are invited to call our wellness center at 352-787-8531 to schedule a same-day appointment. Buchanan Health Center serves residents of Leesburg, Fruitland Park, Umatilla, Mount Dora, Tavares and Eustis areas. Our nurse, chiropractors, and massage therapist are experienced wellness professionals who provide a wide variety of medical treatments and services to holistically support your overall physical and mental health.