Topics
Chiropractic Care in Leesburg
At Buchanan Health Center, our chiropractors believe in taking multiple approaches to achieve full-body health. In addition offering medical care, massage therapy, physical rehab and other treatments, we're proud to provide chiropractic care to our patients in Leesburg, Fruitland Park, Eustis, Tavares, Mount Dora, Umatilla and surrounding areas.
Our chiropractor, Dr. Tige Buchanan begin your treatment with a postural screening and exam to assess your condition. This allows them to determine which chiropractic techniques will alleviate your pain most effectively.
Benefits of Chiropractic Adjustments
Every part of your body is inseparably connected. Spinal problems are often the root cause of a variety of ailments. When your spine is properly aligned, your overall health improves and your body is free to heal itself. The practiced hands of Dr. Buchanan and Dr. Kwan can alleviate pain from physical injury and improve your overall quality of life.
Types of Chiropractic Techniques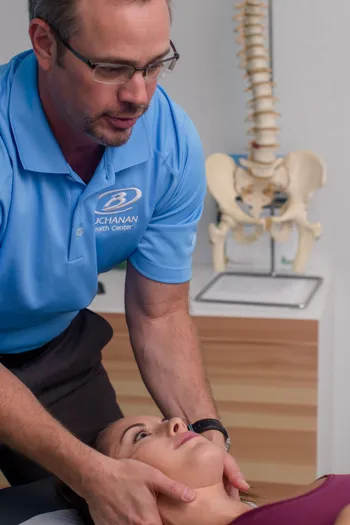 Our chiropractors are trained and remain proficient in five different chiropractic techniques.
Manual Adjustments
Also known simply as spinal manipulation, manual adjustments are a traditional chiropractic method. They involve high-velocity low-amplitude thrusts that often result in an audible pop and instant pain relief from misaligned joints. We believe maintaining this traditional approach to chiropractic medicine is the best option for our patients.
Activator
Our chiropractors use a small handheld device to "activate" vertebral segments of the spine or areas of the extremities. The gentle force feels like a light thump. Despite the minimal pressure, the activator technique is effective for treating everything from lower back pain to migraines. It's especially effective for seniors who need gentle chiropractic care.
Cox Flexion/Distraction
Also called decompression manipulation, this technique is the method of choice for treating herniated discs, facet joint pain, scoliosis and other spinal conditions. Cox flexion is performed on a specially designed padded table with pivoting sections to gently stretch the spine and provide pain relief.
Drop Technique
Another type of padded table is needed to perform the drop technique, also called the Thompson technique. This table features sections that drop down a fraction of an inch when our chiropractors apply a quick thrust movement to your back or extremities. The slight dropping motion makes the manipulation technique more comfortable for many patients and increases the adjustment's effectiveness.
Gonstead Diversified
This widely used chiropractic technique involves precise hands-on thrust movements to force a misaligned spine back into alignment. Often patients lie on their side when receiving treatment in the Gonstead style, a technique that not only realigns joints, but also increases mobility and reduces injury-induced pain and stiffness.
Visit Our Chiropractors at Buchanan Health Center in Leesburg
Whether you're only seeking chiropractic treatment, or you want to enjoy a combination of holistic healing techniques including trigger point injections and massage therapy, we can create a custom treatment plan for you. Call us at 352-787-8531 or contact us online to learn more about our Leesburg and chiropractors or to schedule an appointment.